CHRISTIAN WEIGHT-LOSS PROGRAM | EBOOK DOWNLOAD
IT'S THE BEST WAY TO LOSE WEIGHT FAST.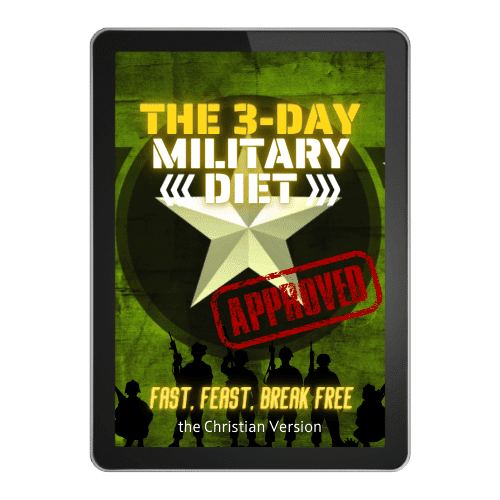 "Nothing works unless we do."

Step 1: Read it carefully. The 3-Day Military Diet will bless your soul with new strength.
Step 2: God's temple must be sanctified and sensitized to discern God's best for you.
Step 3: Apply this Christian Weight-loss Program in faith and you will see the change.
Step 4: Share it with others and edify the body of Christ. It's what we are called to do.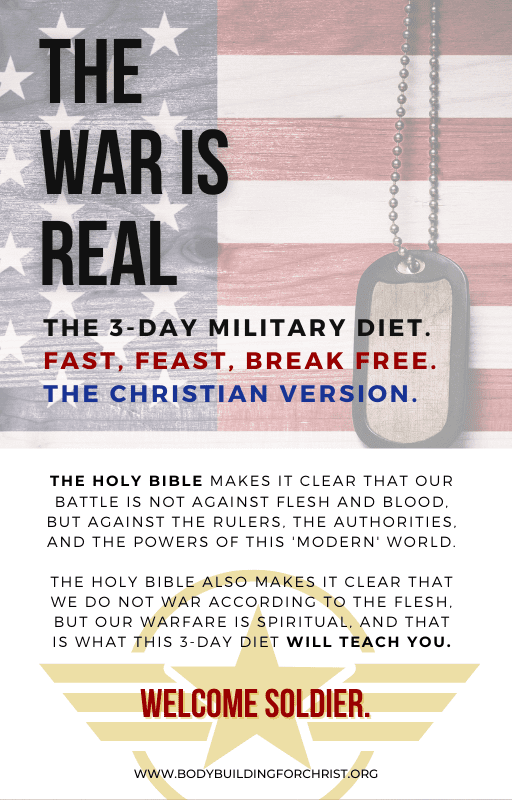 The 3-Day Military Diet [eBook]
Congratulations Recruit! The 3-Day Military Diet is a Christian Weight-loss Program designed with you in mind.
You will fast and feast for weight-loss, longevity, and so much more. Fasting is the best way to lose weight, but if you don't do it God's Way, you will fail.
Feasting with a family nourishes the body and soul. Nutrition is about more than food. Learn to value hunger and GROW hungry for a breakthrough. 
We are all made in God's Image with a natural desire to feel secure. But if we don't get support, and if no one cares, then we will reach for more than food.
Give and it will be given to you!
The Best Christian Weight-Loss Program
Disclaimer: Please note this Christian Weight-loss Program is not meant to cure or treat any existing medical conditions or co-morbidities. If something concerns you, please consult your healthcare provider. It will also be a good idea to discuss the content of this Christian Weight-loss Program with your spouse, and your doctor to ensure they support your decision to fast, detox, and cleanse yourself. Thank you for choosing to support Bodybuilding for Christ (NGO) with your fitness journey! We have some of the best Christian workout programs and all the funds go towards God's business. Click here to learn more!